---
Downloadable Videos-
From the Archives of Wild West Wrestling/LPWF, come these remastered versions of some classic action! Championship matches, tag action and some rarely seen competitors are now available online once again.
---
If you purchase through Paypal using the appropriate button, within 24 hours you'll receive your Username and Password from us. Be sure and check your Spam folder before writing us if you think we've been tardy.
Paypal purchases are not instant access!
Sorry, no refunds can be given after purchase has been completed, so click with care!
Please be aware that these downloads run well over 100MBs in size, so they're not recommended for those with dial-up connections!
---
Want to purchase by money order or you're not able to download large files?
Please check out our FAQ page!!
---
Download doesn't play quite right?
Please check out our FAQ page!!
---
LPWF 1: AJ Sparx vs. Jenelle Sinclair A rough and tough match where Jenelle concentrates much of her attack on the legs of AJ. AJ develops a limp over the course of the punishment, but manages to come back and deliver a Sleeper, some boots in the corner and some painful stretches.

Don't count anyone out until that final bridging Suplex!

Lower Quality Sample to Preview the Action!


12 min. 192MBs WMV Format, 720 x 480
---
$5

---
$5 through Paypal
LPWF 2: AJ Sparx vs. Kara Kildare Little AJ is all heart and fire against a much larger opponent. Kara's concentration on the left arm of her foe is especially merciless.
Aj resorts to some shortcuts to get back into the fight-even going outside to bring a chair into the fray!

A shocking cheat leaves one lady out cold.

Lower Quality Sample to Preview the Action!


11+ min. 191MBs WMV Format, 720 x 480
---
$5

---
$5 through Paypal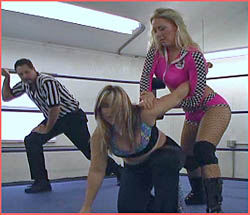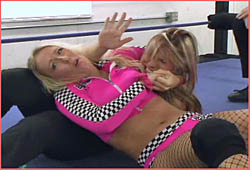 LPWF 3: Amber O'Neal vs. Lexie Fyfe Lexie Fyfe needs a tag partner and Amy may just fit the bill. First though, there's the matter of a match with Amber.
Lexie dominates, but not by the use of fair wrestling tactics. Amber is choked and thrown from pillar to post. At one point the ref is out of action and Amber grabs a Sleeper that looks like it will get her the win.

Lexie's 'partner' won't let that happen however as this one ends with Amber outnumbered.

Lower Quality Sample to Preview the Action!


8+ min. 133MBs WMV Format, 720 x 480
---
$5

---
$5 through Paypal
LPWF 4: Amy Love vs. Amy Sue, Amy Love vs. Lexie Fyfe Match 1: Filmed when Lorelei Lee was still rookie AmySue, Amy Love is ruthless in her attack.
AmySue just keeps getting up from every pin attempt and fends off every blow to keep on fighting.

Match 2: Lexie defends her belt against Amy Love, hoping to make short work of her. It look like she'll do it too, until a bit of interference from the outside puts Amy in control!

Lower Quality Sample to Preview the Action!


13+ min. 201MB zip file WMV Format, 720 x 480
---
$5

---
$5 through Paypal
LPWF 5: Amy Sue vs. Lexie Fyfe Young AmySue is in for a real wrestling lesson from an angry Lexie. Lexie sticks to mat work, working AmySue over for much of the match.

When AmySue finds herself in control she's racing around the ring and springing in from all sides. But will it be enough?

Lower Quality Sample to Preview the Action!


13 min. 210MB WMV Format, 720 x 480
---
$5

---
$5 through Paypal
LPWF 6: Battle Royal, Hailey Hatred vs. Lady Victoria Match 1: Hailey Hatred, Lady Victoria, Fire and Sin-D in a Battle Royal with the winner getting a title shot. You know it's every woman for herself and bodies are flying!

Match 2: Hailey's got the belt and Victoria feels confident after the event of their Battle Royal. Fierce action with a Cobra Clutch finish.

Lower Quality Sample to Preview the Action!


13+ min. 214MB zip file WMV Format, 720 x 480
---
$5

---
$5 through Paypal
LPWF 7: Lexie Fyfe & ODB vs. Camron Star & Venus ODB has the tag belts, but no partner. Enter Lexie.
A fierce match ensues with lots of double teaming, near falls and the challengers fighting surprisingly dirty.

It pays off for them in the end as we have new champs!

Lower Quality Sample to Preview the Action!


10+ min. 167MB WMV Format, 720 x 480
---
$5

---
$5 through Paypal
LPWF 8: Lexie Fyfe & ODB vs. Camron Star & Venus The rematch of LPWF 7 as Venus and Camron are the gloating beltholders.

More of the same fast and less than fair action as the challengers fight hard to get their belts back!

Lower Quality Sample to Preview the Action!


12 min. 192MB WMV Format, 720 x 480
---
$5

---
$5 through Paypal
LPWF 9: Candice Larae vs. Rain Match 1: Internet Champion Candice defends her title against the always dangerous Rain. Lighting quick match that leaves the champ stunned and angry!

Match 2: A fired up Candice wants her title back. She gives it her all with pin attempts, flying headscissors and more. An exhausted Rain is nearly knocked out!

Lower Quality Sample to Preview the Action!


14+ min. (2 Matches) WMV Format, 720 x 480
---
$5

---
$5 through Paypal
LPWF 10: Christie Ricci vs. Jenelle Sinclair Enemies collide! Lots of hard mat wrestling & hairpulling shortcuts with both ladies in this one until the end.

Just when it looks like one lady is almost done, a stunner of an escape lays out her foe for the 3 count!

Lower Quality Sample to Preview the Action!


10+ min. 166MB WMV Format, 720 x 480
---
$5

---
$5 through Paypal
LPWF 11: Fantasy vs. Lexie Fyfe Fantasy has the belt and she knows she's in for a rough afternoon against Lexie.

Both on the attack throughout with tactics both fair and foul-from Lexie mostly the latter. Can't argue with her success though.

Lower Quality Sample to Preview the Action!


11 min. 178MB WMV Format, 720 x 480
---
$5

---
$5 through Paypal
LPWF 12: Fire vs. Lady Victoria, Fire vs. Sin-D Match 1: Victoria has the belt and looks to be in real danger of losing it to the blond. One missed move, however, and the Lady presses her advantage. Fire gets hammered on but comes back with a big clothesline.

Match 2: Fire defends her strap against the vicious Sin-D. It's anybody's match until one lady takes control and stretches one combatant beyond her pain threshold!

Lower Quality Sample to Preview the Action!


14+ min. 232MB zip file WMV Format, 720 x 480
---
$5

---
$5 through Paypal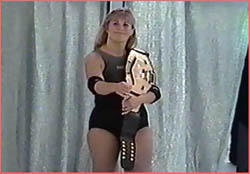 LPWF 13: Hot Summer vs. Tiffani Monroe Match 1: Tiffani defends her belt against spitfire Summer. It's obvious Summer wants that belt and will pull out all the stops to get it!

Match 2: Summer's first title defense is a rematch. Tiffani defintiely learned the youngster's playbook in their previous encounter and is ready to get back her title!

Lower Quality Sample to Preview the Action!


12+ min. 202MB zip file WMV Format, 720 x 480
---
$5

---
$5 through Paypal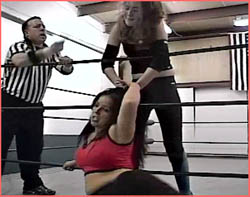 LPWF 14: Morgan vs. Reggie Styles Match 1: Reggie defends her belt in an over-if-you-blink contest that she believes proves her dominance. A sneak attack by Morgan and Candice and intervention by Rain set up the next in this series.

Match 2: The rematch is a more back and forth affair, though Morgan spends a lot of time arguing with the audience.
A backbreaker of a Boston Crab and the title changes hands!

Lower Quality Sample to Preview the Action!


12 min. 196MB zip file WMV Format, 720 x 480
---
$5

---
$5 through Paypal
LPWF 15: Morgan vs. Reggie Styles Match 1: Continuing the rivalry from LPWF 14, mouthy Morgan doesn't shy away from her challenger. Hard fought until a big Samoan drop leaves one fighter angry and ready for yet another battle.

Match 2: The match begins from the outside with the ladies slugging away before the official start. A lesson learned and a handful of tights and we've got a new champ!

Lower Quality Sample to Preview the Action!


17+ min. 287MB zip file WMV Format, 720 x 480
---
$5

---
$5 through Paypal
LPWF 16: Hailey Hatred & Sin-D vs. Kelly & Peaches
Hailey Hatred vs. Kelly Match 1: Hailey and Sin-D defend their title against the energetic challengers. Peaches is quick, Kelly can be devastating.
Everyone's in the ring near the finish, but there's a surprise roll-up for the win.

Match 2: Kelly throws Hailey around and keeps her off balance. Hailey gets up everytime that she's knocked down, but the weardown factor may take its toll!

Lower Quality Sample to Preview the Action!


15 min. 239MB zip file WMV Format, 720 x 480
---
$5

---
$5 through Paypal
LPWF 17: Holly Wood vs. Sin-D Match 1: Accompanied by Syren, Sin-D challenges for the title. Determined to get the win, she'll resort to some underhanded tactics that the ref doesn't always catch.

Match 2: Holly wants her title back and fights fiercely for it. At one point Sin-D thinks she's successfully defended her title, only to have the ref tell her that the match continues.
A Figure Four Leglock proves so painful that one lady passes out from the pain and the winner leaves with the belt in her hands.

Lower Quality Sample to Preview the Action!


20 min. 279MB zip file WMV Format, 720 x 480
---
$5

---
$5 through Paypal
LPWF 18: Macaela Mercedes vs. Syren
Syren vs. Tiffani Monroe Match 1: Macaella can't wait to get her hands on Syren, who is accompanied to the ring by Sin-D.
This one is over as one lady applies a Stepover Toehold that would do a Funk proud!

Match 2: Tiffani challenges for the belt and is constantly on the attack. Wearing her foe down, one big Rocking Horse proves to be too painful and we have a new titleholder!

Lower Quality Sample to Preview the Action!


14+ min. 224MB zip file WMV Format, 720 x 480
---
$5

---
$5 through Paypal
LPWF 19: Syren & Sin-D vs. Mighty Heidi & Tiffani Monroe "America's Sweethearts"? Not to Heidi and Tiffani. Everyone has a belt, but pride is still at stake.
Plenty of aggression and more action than the ref can contain in this one. The winners pull it out at the end with a surprising pin for the win!

Lower Quality Sample to Preview the Action!


14+ min. 236MB WMV Format, 720 x 480
---
$5

---
$5 through Paypal
LPWF 20: Hellena Heavenly & Jenelle Sinclair vs. Sin-D & Lulu The tag straps are up for grabs and both teams think they deserve them around their waists.
A titanic battle ensues as both teams dish out tremendous amounts of punishment.

A big doubleteam move brings about the finish with one team celebrating and the other team recovering.

Lower Quality Sample to Preview the Action!


14 min. 226MB WMV Format, 720 x 480
---
$5

---
$5 through Paypal
LPWF 21: Holly Wood vs. Lexie Fyfe A confidant Holly challenges for Lexie's belt. Plenty of fast action and grueling holds, screams of pain and some surprising turnarounds before this one is over. A shocked and enraged loser is left to fight another day.

Lower Quality Sample to Preview the Action!


21+ min. 349MB WMV Format, 720 x 480
---
$5

---
$5 through Paypal
LPWF 22: Sin-D vs. Traci Brooks Sin-D defends her belt against the determined challenge of Traci.
The ladies lay into each other, applying holds and throwing bodies without mercy.

A devastating X-Factor ends the screaming, the punishment--and a title reign.

Lower Quality Sample to Preview the Action!


15 min. 244MB WMV Format, 720 x 480
---
$5

---
$5 through Paypal
LPWF 23: Kara Kildare vs. Traci Brooks Big Kara cuts a confident promo before this one starts, but Traci doesn't fear any challenger.
Both ladies leave this match battered and bruised, but even when it's all over, the champ finds out that you should always watch your back!

Lower Quality Sample to Preview the Action!


15+ min. 246MB WMV Format, 720 x 480
---
$5

---
$5 through Paypal
LPWF 24: Hot Summer vs. Sin-D 2 high energy matches between these tough ladies. Full of ropes to ropes fighting and plenty of mat-based holds as well.

Lower Quality Sample to Preview the Action!


9+ min. 155MB WMV Format, 720 x 480
---
$5

---
$5 through Paypal
LPWF 25: Kara Kildare vs. Lulu Lulu's plan is to use her quickness and tire out her opponent. Kara can't wait to get her hands on Lulu and the fight is on!

Lulu is all over Kara, but will Kara prove just too much for her to handle, let alone pin to the mat?

Lower Quality Sample to Preview the Action!


11+ min. 184MB WMV Format, 720 x 480
---
$5

---
$5 through Paypal
LPWF 26: Holly Wood vs. Sin-D
Kelly vs. Sin-D
Peaches vs. Sin-D Match 1: These ladies aren't paid by the hour, so they try hard to get the other pinned rather than take a beating.

Match 2: Big Kelly cheats more than she wrestles, but can she take what she dishes out?

Match 3: Solid wrestling as Sin-D defends her belt, but a rival from a previous contest brings this one to a surprising conclusion!

Lower Quality Sample to Preview the Action!


14+ min. 232MB zip file WMV Format, 720 x 480
---
$5

---
$5 through Paypal
LPWF 27: Candice Larae vs. Reggie Styles
Morgan vs. Rain Match 1: Reggie defends her title belt.
Candice and her less than legal style dominates for much of the match. A Sharpshooter brings a decisive finish.

Match 2: Rain defending her belt. Morgan seems to think every move that she makes is worthy of applause.
A low kick and a neckbreaker bring the win!

Lower Quality Sample to Preview the Action!


11+ min. 183MB zip file WMV Format, 720 x 480
---
$5

---
$5 through Paypal
LPWF 28: ODB vs. Venus
Hellena Heavenly & Jenelle Sinclair vs. Christie Ricci & ODB Match 1: Full of more punching and kicking than wrestling holds, but some outside interference puts someone in position to lock on a painful Figure Four to get the submission.

Match 2: The Fabulous Angels in a title defense that Hellena won't soon forget, as a surprising twist leads to a quick submission finish, the end of a title rign--and a partnership!

Lower Quality Sample to Preview the Action!


11 min. 175MB zip file WMV Format, 720 x 480
---
$5

---
$5 through Paypal
LPWF 29: Hellena Heavenly vs. ODB These ladies battle it out with tests of strength and plenty of holds. Head and Waistscissors, attacks in the corner, Abdominal Stretch.

The big arms of ODB lock on an inescapable Bearhug and Hellena finds herself in serious, serious trouble!

Lower Quality Sample to Preview the Action!


12 min. 196MB WMV Format, 720 x 480
---
$5

---
$5 through Paypal
LPWF 30: Hellena Heavenly vs. Sin-D Hellena and Sin-D in a singles rematch from their earlier tag.
Sin-D wants to prove that she has what it takes and that her partner was responsible for their earlier loss and she takes out her anger on Hellena.

Back and forth with both ladies suffering lots of punishment before a pin (with a handful of tights?) brings this chapter of a rivalry to a close.

Lower Quality Sample to Preview the Action!


13+ min. 224MB WMV Format, 720 x 480
---
$5

---
$5 through Paypal